I can't believe it works as well as it does…truly! But I've found it – the best dairy free buffalo chicken dip that you could ever ask for. It's soooo easy to make (I made it in my crock pot!) and you would never know it's dairy free! It's JUST as good as classic buffalo chicken dip!

This stuff is perfect for game days, get togethers, or just cold days where you want to sit inside and veg out. And it makes amazing leftovers! You can eat it as the fabulous chicken dip that it is…or you can add it to tacos for a fun change of pace.

If you're looking for non-dairy appetizers, especially non-dairy game day appetizers, THIS IS IT. This recipe is such a crowd pleaser and I guarantee they won't know it's dairy free!

---
Some links on this page may contain affiliate links. For more information, see my disclosure policy.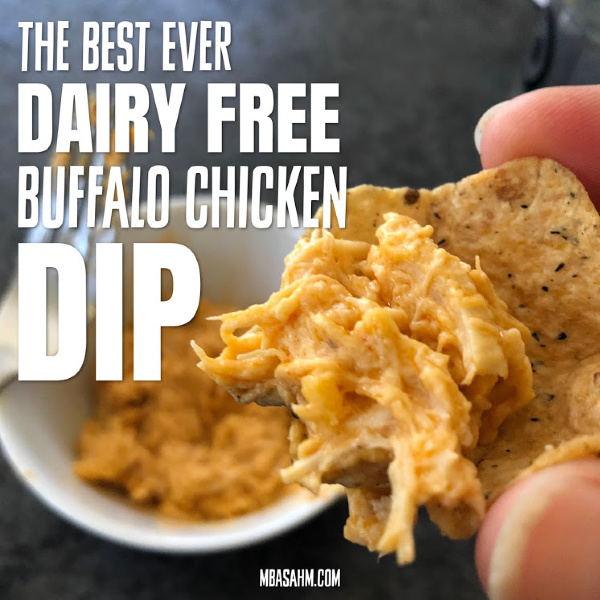 One of the other things that makes me really excited about this recipe is that it's not heavy on soy at all. All of the creamy goodness comes from THREE different types of nut cheeses (another thing that makes me excited), all of which you should be able to get from your grocery store (I was able to get all of these ingredients at Wegmans).

And, of course, the fact that this is a crockpot dairy free buffalo chicken dip recipe only makes it that much better!

It's dairy free, easy to make, and delicious!

Dairy Free Buffalo Chicken Dip Ingredients

For this non-dairy buffalo chicken dip, I used three different nut cheeses – almond, coconut, and cashew. I love that I was able to mix them all together and was especially excited that none were soy-based! Each one had their own texture, which was also great because it helped to make the dip thick and creamy…exactly how the dairy-heavy classic buffalo chicken dip is!

The first cheese I used was kite hill almond cream cheese. This cream cheese was the softest and creamiest of the bunch, but it didn't become oily when melted, which was AMAZING! The consistency was a little softer than dairy cream cheese, but still very close!

The second dairy free nut cheese that I used was Daiya cream cheese, which is coconut-based. This one was THICK. The consistency almost reminded me of a stick of butter before it's been soften. BUT, just as with the almond cream cheese, it melted beautifully without being oily at all!

The third non-dairy nut cheese I used – and the one I was most excited to see work successfully – was shredded Parmela Creamery Sharp Cheddar Nut Cheese, which is made from cashew milk!  Just as with the other nut cheeses, this one melted as if it was the real thing.  And it tasted amazing!

In addition to the non-dairy cheeses that I used, I included buffalo sauce (I'm a big fan of Sweet Baby Ray's but any will work!) and, of course, chicken!  For the chicken, I tore apart an already cooked rotisserie chicken, which made things easy and flavorful.

Crockpot Dairy Free Buffalo Chicken Dip Directions

When I set out to make this recipe, there were two things that were a must – it had to be dairy free and it had to be a crockpot recipe…I didn't want any fuss or strict times!

And that's exactly what happened! And it worked perfectly.

So get your crock pot out and add the following ingredients! I kept mine on the low setting for about 3-4 hours and it turned out perfectly.

Here are the ingredients and measurements I used:

Just mix, turn your crockpot on low for 3-4 hours with occasional stirring, and enjoy! I was able to put the leftovers in the fridge and reheat easily. This non-dairy buffalo chicken dip was amazing! I'll definitely be doing it again.

Good luck with your own dairy free buffalo chicken dip! I hope it works out as nicely as mine did!
You may also be interested in:
---