I'm a total documentary junkie, so there really aren't any that are off limits. But my absolute favorites are the ones that inspire big lifestyle changes like these minimalism documentaries do. And even if you aren't looking for major lifestyle changes, my bet is that you'll find these movies about simple living totally inspiring.
Somehow, they all manage to shed light on areas of our life that you never really thought of. They will completely change your perspective on the world, and especially your immediate environment. Which makes these documentaries about minimalism great sources of motivation if you need that extra push to change your life (or even just clean it up a little).
So this is for the aspiring minimalist out there! If you're looking to downsize your life, or more importantly find more with less, these minimalism documentaries are for you!
You can find most of these minimalist documentaries on Netflix, and if not there, then definitely on Amazon Prime or HBO. They're all easy to come by.
So are you ready to purge your house, focus on happiness, and live more simply? Start with one of these simple living documentaries:
---
If you'd like more tips on reaching financial freedom, living a fulfilled life, and raising happy kids, subscribe to MBAsahm for notification of new posts!
---
Some links on this page may contain affiliate links. For more information, see my disclosure policy.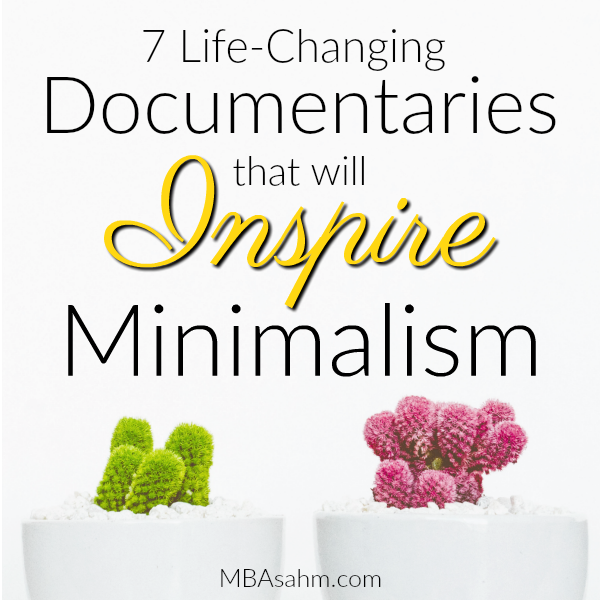 The True Cost
You will never look at your closet again after watching The True Cost.
This minimalism documentary profiles "fast fashion," which is the shift towards inexpensive clothing that is so cheap we view it as disposable.
It will make you realize things about the quality (and quantity) of your clothing that you've probably never realized.
And the "true cost" of these cheap clothes is even more disturbing.
Of all minimalism documentaries out there, this one is likely to have the greatest impact on how you live your life. There's no question you'll be considering a simpler life (or at least, wardrobe) after watching this.
The True Cost is a definite must-watch and it's a Netflix minimalism documentary, so you shouldn't have a problem finding it!
Tiny
How big is your home? Does it feel too small?
How about living in a home that is less than 500 sq ft?
That's the cut-off for a home that is technically considered "tiny" and there are a growing number of people that are opting for this lifestyle.
But what is really inspiring about TINY is that these homes are really, really, really nice. So if you're looking for a documentary about down-sizing, this is it!
They're small because they're supposed to be.
The idea is that as the square footage shrinks, the quality of living grows – which is minimalism at it's finest!
If you really want a documentary about minimalism, Tiny is for you!
Your life (and home) will never be the same.
Happy
Happy takes a look at just what you would think…happiness!
By taking a look at some of the world's happiest cultures, as well as saddest, the documentary draws some fascinating conclusions….some of which are obvious (like that things don't always bring happiness!).
Watching this is such a great reminder that what we work towards everyday shouldn't be things, it should be happiness. Which is pretty much what minimalism is all about.
This is a definite must-watch simple living documentary for everyone! And since it's another minimalist documentary on Netflix, it's easy to get a hold of. Enjoy 🙂
I Am
You may have to take my word for I Am and just watch it for yourself because no description will do it justice.
This is possibly the most thought-provoking minimalism documentary I have ever watched, and one that you will probably need to repeat just for it to really sink in.
Basically, the producer tries to prove that we are all (as in, the whole world) interconnected in a way that one community's pain is felt by all.
So to truly be happy, we need to help those around us.
It's a great message delivered in a very scientific way. You'll definitely be rethinking what is important to you after this minimalist movie.
Tapped
It has become so normal for us to just grab a bottle of water for lunch or when we're out, but have you ever stopped to think about what happens to that bottle? Or what it took to make?
If you haven't yet, you certainly will now!
Tapped is an extremely eye-opening sustainability documentary that shows exactly how devastating the bottled water industry has become, from the second they start draining fresh water basins to the very last stop for the bottle – often a distant shore that has seen more plastic water bottles than humans.
Tapped takes minimalism to a new level. One that is not just for our well-being, but for the well-being of the entire planet and local communities.
This documentary is a must-watch for everyone!
Living on One Dollar
Living on One Dollar follows a group of college students who spend a summer living in a small Guatemalan City where the average income for families is less than $1 a day per person.
While a summer can in no way do justice to what a lifetime in poverty would be, it is eye-opening and sheds a light onto some really important issues.
More importantly, it is a great reminder how lucky we are and how much we don't need the things we want. Which is really what minimalism is all about.
These guys definitely prove a good point and make this a worthwhile simple living documentary to watch!
Minimalism: A Documentary About the Important Things
Minimalism: A Documentary About the Important Things is the classic go-to documentary on minimalism (shocked??).
It provides a great overview of the foundation of minimalism and why it is becoming more and more attractive for people.
Both of the men profiled in this minimalism documentary left their high-powered, high-paying jobs to live with less…and are both much happier for it.
There's no way you won't consider a simpler life after this documentary! Especially after seeing the change that can occur in an "average" life.
So there you have it! The absolute best documentaries about minimalism that are sure to inspire you! Let me know if you've seen any others that should be added to this list!
You may also be interested in:
---
If you'd like more tips on reaching financial freedom, living a fulfilled life, and raising happy kids, subscribe to MBAsahm for notification of new posts!
---