The holiday season is finally upon us and one of the best ways to help usher in the first big day is with these fun Halloween movies for kids!
Nothing makes Halloween more fun than a bunch of kids that are really excited to celebrate and Halloween movies are such a great way to get the holiday started early.
Some of these movies are creepy (but still good for kids) and others are just cute and fun…but all are Halloween-themed!
So update your Netflix queue with these great Halloween movies for kids and cozy up with some popcorn. This is a great way to spend a rainy October afternoon (or weekend).
---
If you'd like more inspiration on parenting and raising happy kids, subscribe to my Parenting List for notification of new posts. Thanks for your time!
---
Some links on this page may contain affiliate links. For more information, see my disclosure policy.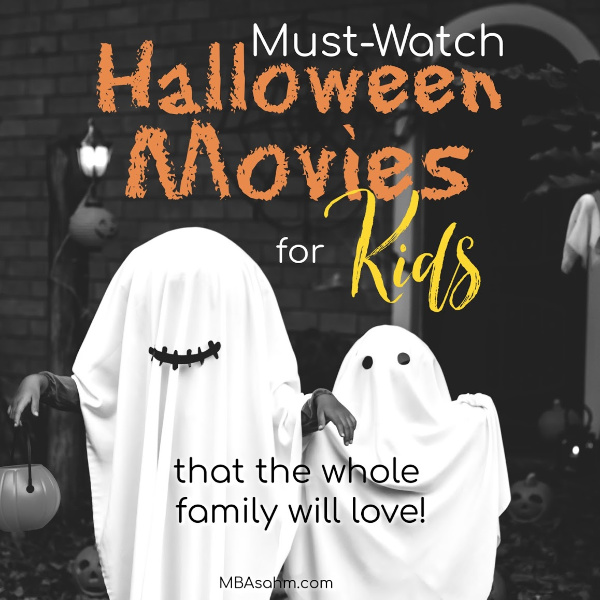 Gnome Alone
Gnome Alone is a new Netflix Halloween movie that is great for kids and not all that bad to watch as an adult.
It's got a haunted house, gnomes (which really make this Halloween movie unique) and an enchanted stone…great elements that make for a classic kid Halloween movie.
Since this is a Halloween movie on Netflix, your kids can (and probably will) watch it over and over again…and sometimes that's really nice. 😉

Casper the Ghost
Casper the Ghost is such a great classic Halloween movie for kids!
Today's kids haven't been exposed to the cartoon version of Casper like we were, but the movie will be just as fun for them and SOOO nostalgic for you.
Which is what makes this one of the best family Halloween movies!
It's also just a really unique Halloween storyline that you won't find anywhere else.
Best of all, it's a Halloween movie on Netflix, so if you've got a subscription, you can add it to your queue!

Coraline
Coraline is one of those weird, creepy, bizarre Halloween movies that for some reason kids absolutely love…and as a parent, your eyes will also be glued to the screen.
The animation is perfect for Halloween and is creepy all on it's own.
The storyline is a great classic – Coraline crawls through a secret door in her new creepy house and finds herself in a parallel universe.
This is a must-watch Halloween movie for the whole family and since it's on Netflix, you can add it right to your queue.

Room on the Broom
Room on the Broom is such a cute classic Halloween movie that is perfect for young preschoolers and even toddlers.
It comes from the classic book of the same name and tells the story of a witch on a broom and some of her creature friends.
For a Halloween movie, it's surprisingly peaceful and calm, so it's a great change from the normal shrieks and scares.

Hocus Pocus
Hocus Pocus is another great Halloween classic that parents and kids will all enjoy (parents possibly even more!).
The storyline is perfect for Halloween – a pair of siblings accidentally release a trio of witches, who set out to meddle with Halloween. The siblings must figure out how to stop the witches before they become immortal.
If you remember watching this yourself, then you know you need to pass down the tradition to your kids! And if you haven't seen it, definitely add it to your watch list!

Curious George: A Halloween Boo Fest
Curious George: A Halloween Boo Fest is an absolute must-watch Halloween movie for preschoolers and toddlers!
Curious George is already a childhood favorite and his Halloween special is no exception. He touches on all of the favorite Halloween concepts, but in a cute and non-scary way.
This is a great Halloween movie for little kids.

Goosebumps
You may remember Goosebumps as the terrifying book series for kids (weren't they awesome??).
Well, now Goosebumps has a movie AND a terrifying TV show and kids LOVE them.
They're both part of the Netflix Halloween movie collection, so you can add them all to your queue and binge-watch every terrifying story with your kids.
This is a great family Halloween show that everyone will enjoy! And it will last you the entire month.

Monsters Inc.
Monsters Inc is a great Halloween-time movie, especially for little kids.
The two star monsters – Sully and Mike – work for the largest scare factory in the world.
All is fine until they meet a visitor from a different world (our world)…little girl Boo.
This is a cute classic that all little kids love, so it makes a great addition to a Halloween movie marathon!

Shrek's Spooky Stories
Shrek's Spooky Stories is a really fun Halloween movie for kids, with a few different storylines.
In the 4 part series, Shrek and his friends tell different scary stories amidst a haunted castle…and with a few Halloween adventures.
This is another cute Netflix Halloween show to keep your kids excited all month long.

Super Monsters Save Halloween
If your preschooler hasn't discovered Super Monsters yet, get ready to have some new characters in your house!
Super Monsters is one of Netflix's newest kid shows and their Halloween special, Super Monsters Save Halloween, is a double whammy of excitement because it's…well…Super Monsters and Halloween!
This is a fun little Netflix Halloween movie for kids that they'll be obsessed with, especially if they already love Super Monsters.

Nightmare Before Christmas
The Nightmare Before Christmas is one of the only Halloween movies to try and squeeze itself into the Christmas season too.
Halloweentown's Pumpkin King is tired of the same old creeping around…until he discovers Christmastown.
You can imagine what happens next (or you could watch!).
In addition to a fun storyline, the animation of this film is really, really creepy.
It's a classic Halloween movie for the whole family to get creeped out by!

Thomas the Train's Halloween Adventure
If you've got a train-loving child on your hands then you know that Thomas' Halloween Adventure is the movie for your family!
There are actually two different Thomas Halloween movies – Thomas' Halloween Adventure and Percy's Ghostly Trick, so there's a double dose of Halloween if you have a Thomas the Train-obsessed child!
I hope that every one of these Halloween movies for kids works its way onto your Netflix queue this October. I'm sure a lot of them will even stick with you through the rest of the year. Have a fun holiday season!

You may also be interested in:
A Halloween Advent Calendar Actually Exists & Here's How to Get It
---
If you'd like more inspiration on parenting and raising happy kids, subscribe to my Parenting List for notification of new posts. Thanks for your time!