Third party sites like Hubpages often get a bad rap from bloggers.  After all, we're all taught from the beginning that one of the most important aspects of managing a blog is owning and hosting your own domain.  
These sites, however, are totally misunderstood (and definitely under-utilized) by writers and bloggers.  I've been using Hubpages for longer than my blog's existence and despite my blog's success, I still head back to Hubpages to regularly publish material.  It is an important source of income that supplements what my blog is earning for me.
While the money is obviously important, there are other serious benefits to using Hubpages when you're a blogger.
---
If you'd like more blogging tips and tricks, subscribe to my MBA Sahm Blogging Mailing List for notification when new posts are published. I hope you enjoy everything you read! Thanks for your time!
---
Some links on this page may contain affiliate links. For more information, see my disclosure policy.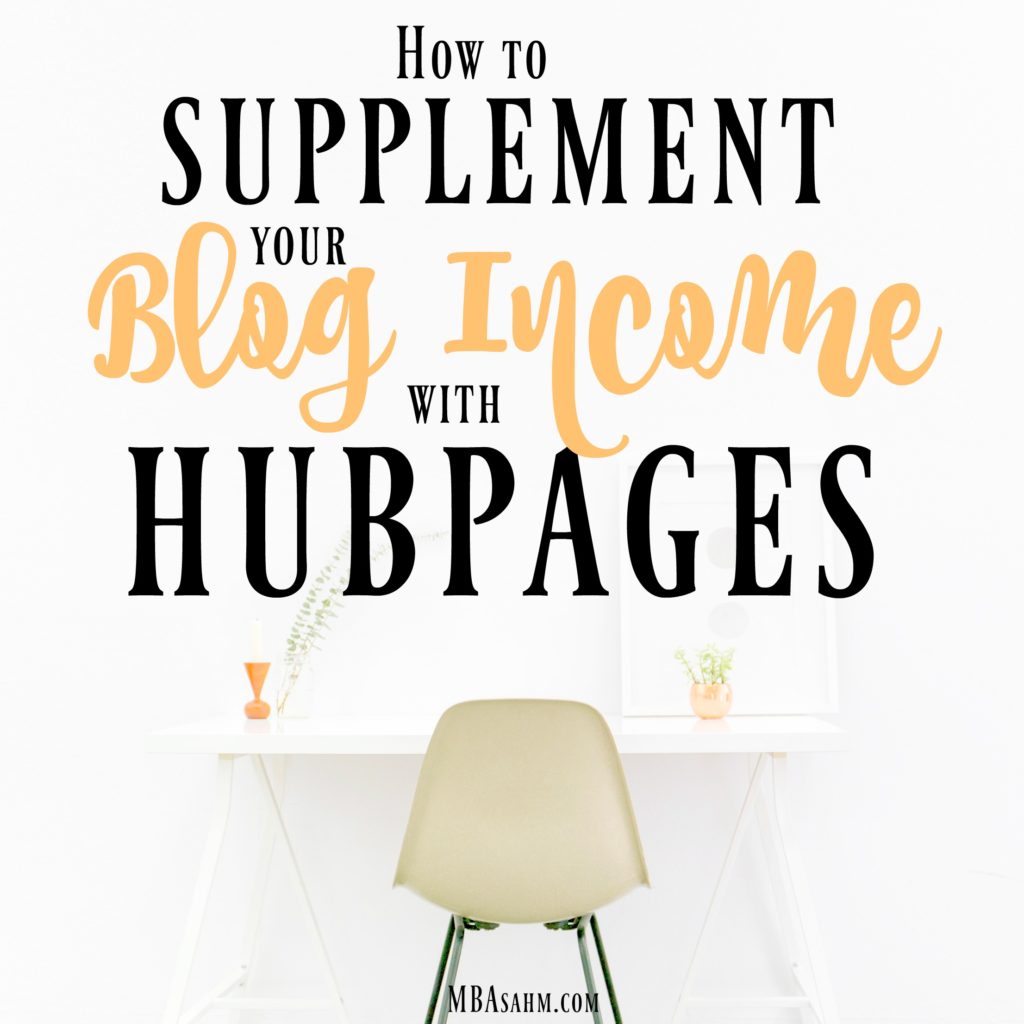 I'll go through each of them, but first let me elaborate a bit on what Hubpages actually is so that we're all on the same page.
What Exactly is Hubpages?
Hubpages is a publishing site that lets you publish (for free) articles one at a time.  There is a distinct different from Hubpages and other free publishing sites like WordPress and Blogspot.  The latter sites let you create blogs for free.  You're basically still left to manage the entire site and when people head to your blog, they find only your content.  Hubpages lets you publish one single article and after people read your article, they can look at other articles found on Hubpages (from different authors).  It is more like writing for a giant publication like the Huffington Post, only you get a little more control and don't have to apply to have your work published.
One important note to make about Hubpages is that even though you are publishing on their site, you still own your content.  This means you could take it down whenever you want (an important perk that you don't always get from other writing opportunities).
How Hubpages will Supplement Your Blog Income
Once you start monetizing your blog, you quickly realize that your income comes from a variety of sources.  Even just reading the various income reports shows you how many different opportunities there are.  Hubpages is one of those opportunities.  
There are two direct ways to make money on Hubpages – ad revenue and Amazon affiliate sales.  There are also indirect benefits of using Hubpages that will have a positive effect on your existing blog earnings.
Related Post: How to Make Money Writing Articles on Hubpages
Writing Outside Your Niche
Aside from hosting your own domain, blogging seems to have another (overblown, in my opinion) rule – never write outside your niche.  Regardless of its contribution to blogging success, I am willing to bet that all bloggers struggle with this rule.  After all, we're all writers and it's sometimes hard to ignore that itch that keeps telling you to just write about whatever you want.
Hubpages is the perfect answer to that feeling.  It's an opportunity to write about the topics that just don't fit your blog.  You can write about your kids, travel, food, pets, how to's, politics, and religion.  There is literally no end to what you can write about.  This is a HUGE opportunity to make money!  You can finally write about all those topics you wish you could add to your blog, but are afraid to.  
Higher Affiliate Tiers
You are going to jump for joy when I tell you this – Hubpages was unaffected by Amazon's recent commission payout change.  For those who are unfamiliar, Amazon recently changed their affiliate payout from a volume-based system to a category-based system.  The old volume-based system typically paid between 6%-8%.  Depending on your niche, the new category-based system now pays anywhere from 3%-10%.  If you're a home decor blogger, the 8% on home products may have actually increased your income.  If you're a mom blogger like me, the 3% on toys is a real kick in the gut.  Hubpages almost always pays out at 8.5%.  This is a big deal!
You're Already a Social Media Expert with a Built-in Network
One of the downsides to writing on Hubpages is that you need to do your own marketing.  This is by far the biggest difference between Hubpages and sites like the Huffington Post that I compared earlier.  But since you're a blogger, you've already built up a marketing network and have developed an expertise in social media. This gives you a huge step up when it comes to Hubpages!  It essentially wipes out their biggest downside, making it an even better option for income generation.
What You Can Write About
I already told you that you can write about anything, and that's totally true.  But just to elaborate about all the potential that holds, consider these options for articles:
Experimental topics

– If you've ever wondered whether or not your readers would be interested in a specific direction, this is a great place to test things out.  You will have the opportunity to market to your social media audience, but can hold off sending to your email subscribers or regular readers.

Supportive articles

– If you have a topic that is a huge hit, but feel like you've written about it too much or want to elaborate on a very specific area, Hubpages is a perfect way to create more content.

Gift guides and product reviews

– Some gift guides fit, others don't – and the same goes for product reviews!  But the reality is that those posts are a great way to earn money and Hubpages is a way to get that done.
Hubpages is Diversification at Its Best
Blogging is one of the most rewarding careers out there, but it can also be a scary proposition.  Too often, we're at the mercy of companies like Pinterest, Adsense, and Amazon.  One little algorithm change and your traffic could drop by 50%, one change to affiliate payouts and your income takes the same hit.  Diversification is one of the best defenses to protect against this and Hubpages is the perfect way to round out your portfolio.
If you're ready to give it a shot, here are some more tips for making money with Hubpages → How to Make Money Writing Articles on Hubpages
Good luck!
You may also be interested in:
---
If you'd like more blogging tips and tricks, subscribe to my MBA Sahm Blogging Mailing List for notification when new posts are published. I hope you enjoy everything you read! Thanks for your time!