There is truly nothing better than reading a good book (or using one!) that warms your insides and instantly improves your mindset. These amazing self-reflection books do exactly that and then some – they'll motivate you to take the next step, give you clarity about what will provide peace and happiness and hopefully inspire new ideas to add value to your life.
I've read all of these and they're the ones that I go back to again and again, especially when I'm at a low point and need that extra boost.
I highly recommend you add these to your collection! They're a great tool for self-reflection, which is so important for relieving anxiety and overcoming obstacles.
Enjoy!
---
Some links on this page may contain affiliate links. For more information, see my disclosure policy.
---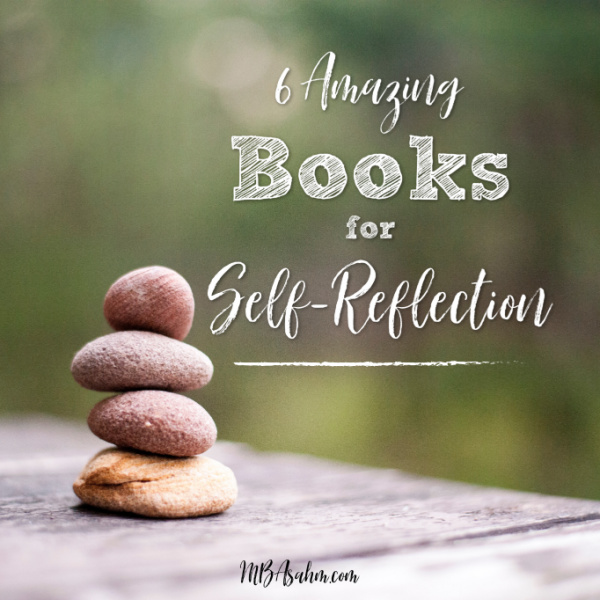 The 5-Minute Journal
The 5-Minute Journal is the most simple, brilliant and best journal for self-reflection that I've ever come across. Enough so that I will continue to buy it again and again for as long as I live.
Here's how it works: Every morning you spend 3 minutes on it, every night you spend 2 minutes on it…and they ask you the same thing every single day.
So, yes, there's repetition. But after this book, you'll realize how powerful that actually is. Because what will happen is that you'll start to recognize patterns and all of a sudden easy, obvious solutions will pop up in your head.
This book is not a heavy, life-altering dive into the darkest corners of your mind. It's simply the best way to pinpoint little changes that you can make to your day that will make you way happier.
Try this out! You'll be so happy you did.
The Miracle Morning
The Miracle Morning is one of the most life-changing books I ever read and, just as with the 5-Minute Journal, it's as simple as it is powerful.
The author lays out a plan to completely change your day (and life) by taking one hour in the morning and filling it with 6 different activities (10 minutes each). These activities – as you may have guessed – are definitely heavy on self-reflection, which is why I love this book so much.
You will be reflecting on your past, present and future, while also taking care of your body and mind!
This book is brilliant. Move it to the top of your list!
You are a Badass: How to Stop Doubting Your Greatness and Start Living an Awesome Life
You are a Badass says it all in the subtitle: stop doubting your greatness and start living an awesome life.
And that is exactly what this book does through each and every chapter.
One thing I really love about this book (aside from the amazing content) is that the author, Jen Sincero, is soooo funny, which just makes you feel really good while you're reading.
But as far as self-reflection goes, this book is transformational. It touches on your career, self-love, confidence and motivation.
It will make you think deeply about your capabilities and desires, but in a truly inspirational way.
This is a great one! Absolutely move it to the top of your list.
Burn After Writing
Once you've gotten hooked onto the 5-Minute Journal, you're going to love Burn After Writing.
This book is the type of self-reflection journal that dives deep into your mind to figure out what you really love, fear, desire, etc.
It is still very simple in the sense that it asks basic questions. But as you go through the book answering each of them, you will reflect on your past, present and future. All of a sudden, you'll have those ah-ha moments where something clicks and you realize what you're supposed to do, why you do the things you do, or whatever else your epiphany delivers.
This is such a great journal and definitely something to try out!
The Success Principles
The Success Principles is such a surprisingly helpful book. It's almost like an encyclopedia for living life!
It's written by the author of the Chicken Soup for the Soul books (remember those??) – but he's not just an author anymore.
After launching his famous book series, he created an entire career for himself based around helping people achieve success – both professionally and (more importantly) personally.
His book is PACKED with actionable advice for taking control of your life and making your dreams come true.
This is an absolute must-read that will provide so much clarity and productive self-reflection. I initially borrowed this one from the library, but then when and bought a copy to reread again and again.
The Subtle Art of Not Giving a F*CK
Imagine if you could get to a place where you just didn't give a f*ck. That's exactly the path that this book will take you down.
Worrying about what other people are thinking – or could think – keeps us from being productive, causes an immense amount of anxiety, and is really just completely counterproductive…but we all do it sooo much.
This book had some life-changing lessons for me that I will never, ever forget. It is a very important perspective when it comes to self-reflection and will help you clear your mind and plan your path forward without (often imagined) outside influence.
I hope you get a chance to read every one of these books! They will all help you on your path of self-reflection. Good luck and enjoy!
You may also be interested in: