There's a really easy way to know if blogging is for you – you start a blog.  You go through the ups and downs, you survive some spells of burnout, but you power through.  And before long, little thoughts creep into your head that you could (and maybe should) start a second blog.
That's when you know it's for you.  When you want even more of the craziness, the ups and downs, and the unbelievable fulfillment.
And you should start a second blog.  When done the right way, a second blog will make your first even better and will achieve profitability (or whatever metric of success you are using) in a fraction of the time your first did.
---
If you'd like more blogging tips and tricks, subscribe to my MBA Sahm Blogging Mailing List for notification when new posts are published. Or, if you want to receive notification for all new posts from MBAsahm, join my Main Mailing List and receive tips on achieving financial freedom, living a fulfilled life, and parenting happy kids. I hope you enjoy everything you read! Thanks for your time!
---
Some links on this page may contain affiliate links. For more information, see my disclosure policy.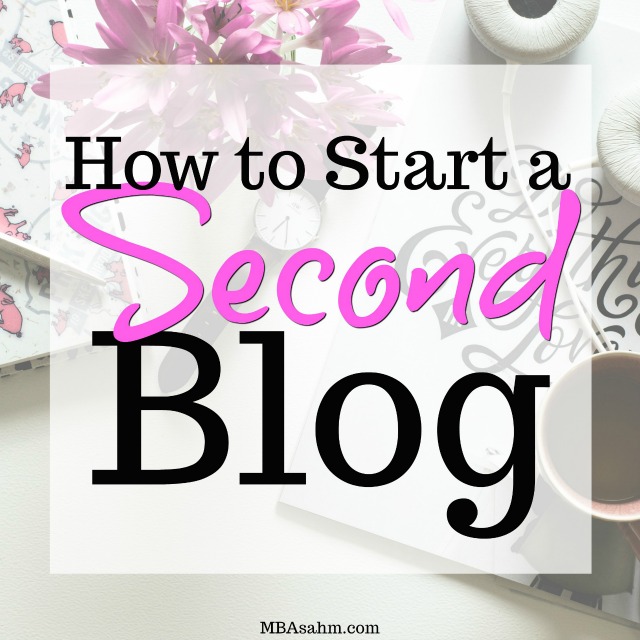 When Is the Time Right to Start a Second Blog?
This answer is different for everyone, but one thing is for sure – you don't want to start a second blog until your first blog is profitable or at least self-sustaining.  
You want to make sure you've established a rhythm with your first blog.
I didn't start my second blog until my first blog was about 3 ½ years old.  Before that, I had been blogging for small businesses for an additional year.
So that was almost 5 years of blogging for me before I started my second blog.
Again, the timing is different for everyone, but I always recommend that bloggers stick with their blog for at least 3 years before making any big decisions (this includes starting a second blog OR throwing in the towel on the first one).
The reason is that there are a lot of ups and downs to blogging.  The seasons have a huge impact on traffic and earnings and you really need to go through a few years to understand how that will affect your blog.
The other thing that happens around 3 years is that exponential growth will start to set in and all of a sudden you'll experience some big wins.  Little tweaks to your blog will have massive impact.
All of a sudden, you'll feel like a real blogger…and that's when you're ready!
How Do You Pick Your New Blog Topic?
Once you know you're ready for a second blog, you have to make a pretty important decision – what is your new blog going to be about?
For a lot of you, that decision will be a no brainer.  There may be something you've been secretly dreaming of for a while or a topic that just doesn't fit well with your existing blog.
If you're a lifestyle blogger and plan on your second site being more niche-focused (that's what I did), this is where the knowledge of your first blog really starts to pay off.
Take a look back and consider things like:
What topics always did really well for you?

What topics did you love writing about?

And which did you hate?
Most importantly, can you write about your new topic for years?
And of course, if you're first blog is a niche site and you're considering a lifestyle blog, then the content isn't nearly as important (in the planning stage) as your blog identity.  
Coming up with your blog identity is a bit easier because it is based around you.  You can embrace multiple topics and really set your own rules.
If at all possible, experiment with aspects of your chosen topic on your existing blog first.  You may be really surprised by the reception (both good or bad).
If there's just no way that you can utilize your existing blog, sign up for a site like Hubpages (that's who I use) to see if your topics are marketable…and more importantly, make sure that you actually enjoy writing about the topic.
I analyzed my highest performing posts and chose a topic that was consistently popular.  I knew I could write about it, I knew it was marketable, and I knew there was a ton of content still out there.
This is the greatest untapped advantage of having a lifestyle blog.  You have a glimpse into endless amounts of niches and have created a foundation for many more blogs to succeed.
Regardless of the methods you use to pick your next site, you should try to come up with a list of at least 100 blog post ideas.  If you can do that, you know there's enough content.  If you can't, you may want to reconsider.
Related post: How to Supplement Your Blog Income with Hubpages
What Are the Advantages of Having a Niche Blog?
Now that you know the huge advantage of having a lifestyle blog, what about the advantages of having a niche blog?
It's easier to write content.
Oddly enough, when you limit yourself to a specific niche, you are able to write about super detailed things that would otherwise seem a little weird.
For example, writing about a bathroom remodel could fall under any lifestyle blog that covers home decor or home improvement topics.  But if you decide to start a niche site on bathroom remodeling, all of a sudden you can write posts comparing different faucets or toilet seats (which, for the record, would be a great affiliate opportunity).  Those posts would probably feel out of place on a lifestyle blog, but for a niche blog, they are a perfect fit!
Google gives you an extra pat on the back.
It is well recognized that Google gives extra authority to blogs that have a tight niche.
This doesn't mean your lifestyle blog won't capture a top Google spot.
But it does mean that your second niche site may capture more top spots and may capture them faster.
This has definitely been my experience so far.
What took a year for my first blog, took 1 month for my second.
Keywords I had written off as too competitive are now within reach.
Related post: The Best SEO Course for Mom Bloggers
Paid Promotions are More Powerful
With my first blog, I rarely paid for promotions.  Partly because I started off making no money, so the mindset I had was very DIY-ish.  But really, the honest truth is that every experiment I held with paid promotions just went nowhere.
And it still is that way…at least, with my first blog.
My second, on the other hand – the one with a tight niche – does phenomenal when it comes to paid promotions (which at this point have been mostly Facebook and Pinterest).
This happens mainly for two reasons:
There isn't as much competition for your super specific keywords, so the ads are almost always way cheaper. I've had a lot of success with promoted pins by just offering the bare minimum – $0.10/click.

You can find very specific niches to market to that wouldn't be interested in a broad lifestyle blog.  On Facebook, I've found target audiences that engage enough to only cost me $0.05/click.
This puts your second blog at a huge advantage because cheap advertising can help you build a following that will read your content every time you publish.  And if you're shooting to apply for a decent ad partner (which I highly recommend), then paid promotions will get you there way faster…and ultimately pay for themselves.
How Can Your First Blog Help Your Second Blog?
This is one of the greatest aspects of starting a second blog – all of the hard work you've put into your first blog will translate over to the second blog in multiple ways.
First, any time there's an opportunity to backlink to your second site, do it!  This will help Google establish your second site as an authority and will send highly engaged readers to the second blog (because they wouldn't click through if they weren't interested).
Second, you can utilize your existing social media following by cross-promoting your second site. If any of your second blog's posts are relevant to your first blog, share them on Facebook. Pin them on Pinterest.  On Pinterest, you can create a group board between your two blogs (but make sure to create this board with your second blog!), so that any of your first blog's new followers will also be following one of your second blog's boards.
And lastly, you've inevitably made so many mistakes and learned so much that you'll be able to jump into your second blog with an expertise that didn't exist with your first.  This will make your second blogging experience unbelievably different.
How Will a Second Blog Help Your First Blog?
What good would a partnership be without both sides helping each other out??
A second blog may have a smaller following and start with less Google authority, but that doesn't mean you still can't use it for cross-promoting and backlinking.
But really, the greatest benefit of a second blog (as far as your first blog is concerned) is the ability to try new things and perform experiments that you just can't on your first site.
So experiment with promotions, experiment with new social platforms, experiment with images and video, experiment with new affiliates and partnerships.  Experiment, experiment, experiment.
Then, whenever you discover something amazing, head right back over to your first blog and see if it works there.
Related post: How to Start a New Blog Quickly
I hope all of this information was helpful and I hope that you get the opportunity to start a second blog (and then a third, and a fourth…)!  With a lot of quality content, smart marketing (and lots of cross-marketing), and strategic promotions, I was able to get my second blog accepted by an ad partner within 9 months, which instantly made that blog profitable (it took years for my first blog).  
The same can happen for you!  Good luck!
You may also be interested in:
---
If you'd like more blogging tips and tricks, subscribe to my MBA Sahm Blogging Mailing List for notification when new posts are published. Or, if you want to receive notification for all new posts from MBAsahm, join my Main Mailing List and receive tips on achieving financial freedom, living a fulfilled life, and parenting happy kids. I hope you enjoy everything you read! Thanks for your time!