Writing is a funny thing.  You don't necessarily have to be an expert at it to make money doing it.  You just need to be an expert at something – and that's what you write about.  If you do happen to be gifted at writing then you've got an extra leg up, but it's not a prerequisite.
Better yet, writing is one of the most flexible, gratifying jobs out there. You're creating something tangible (even if it's only available in cyberspace) and you get better and better the more you write.
In my opinion, everyone should spend some of their time writing.  The benefits are endless, but the obvious ones can't be ignored –
You can do it from anywhere, at anytime

You can write about anything

It makes you better at whatever you're writing about

You can make some easy money!
If you haven't considered writing for a living (or just on the side), it's time to think about it!  And if you're ready to start dabbling, consider some of these ways to make money as a writer (whether full-time or part-time):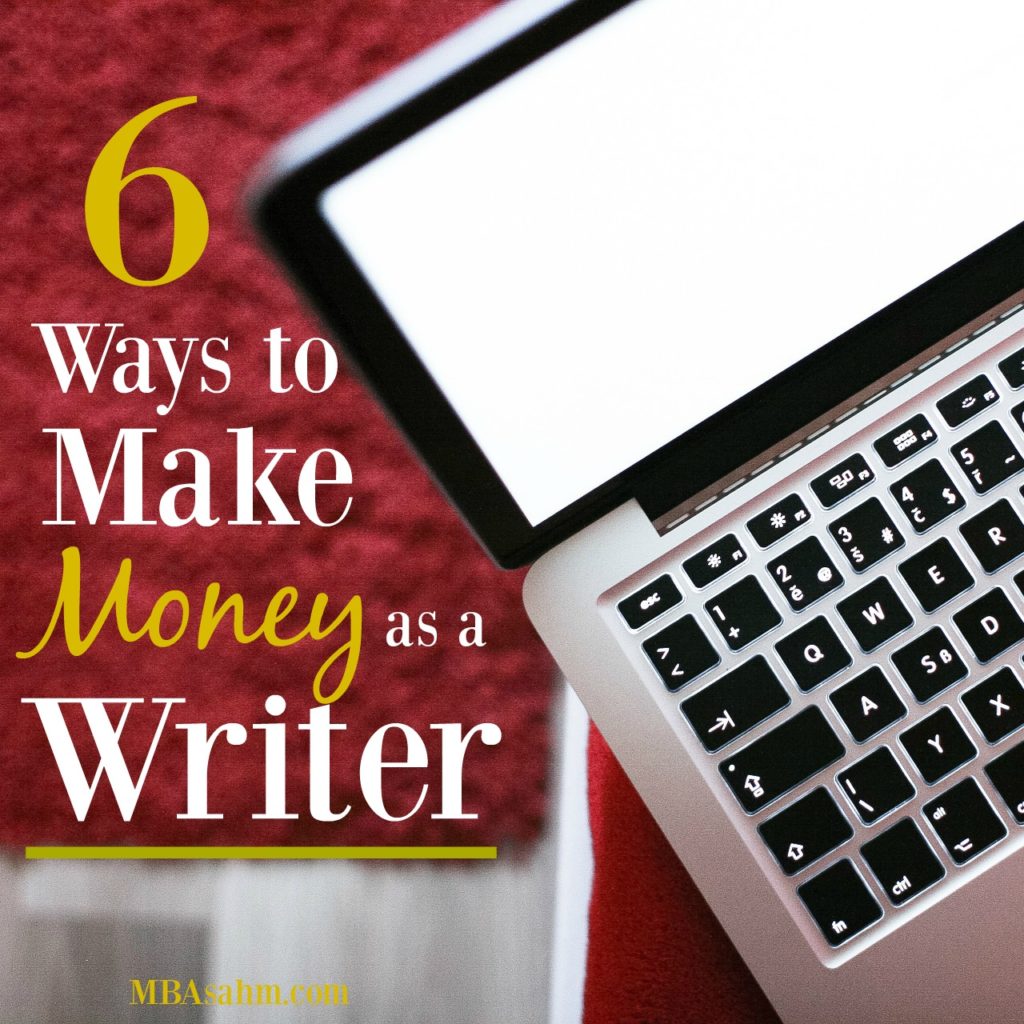 Freelance Writing
Freelance writing wasn't my first money-making source of writing, but it was definitely the first I encountered that provides the potential for full-time income.  What is great about freelance writing is that it can be relatively predictable, which is important if you really need to be making money.  You also have the opportunity to write about a ton of different things.  I've written on topics ranging from Pinterest tips and sales advice to fence installations and honeymoon destinations.  I'm telling you, you'll be SHOCKED at the range of topics that are available.
Once you get good at freelance writing, you may be able to set up your own website to attract clients, but to start I would recommend using a site like Upwork.com.  I have been using Upwork for a few years and am really, really happy with it.  Just sign up and starting browsing the job postings.  If you're just starting out, I'd recommend checking out my post on getting your first freelance writing job (link is below). It provides tips and ideas for building up your portfolio to get the jobs you want.
Related post: How to Get Your First Freelance Writing Job  
Manage Your Own Blog
Having my own blog has been the most fulfilling, exciting, and intense writing endeavor BUT don't be fooled – it is not a get-rich quick scheme.  It takes a ton of work to make a lot of money, but there is the potential to make A LOT.  It is also extremely flexible and it is so amazing to just work for yourself. For me, the greatest part about having my own blog is the immense flexibility.  I'm my own boss. I can write everyday or I can take the summer off.  If you love writing, then there's no reason to not start your own blog on the side!  It's a great way to build up a portfolio of work, fine-tune your expertise, and earn some money on the side.
If you want to start your own blog, check out the post below for a step-by-step guide.
Related post: How to Start a Money-Making Blog
Utilize Micro-Blogging Sites
Micro-blogging is how I got started writing and it was mostly by accident, but now I love it!  Basically, sites like Hubpages and InfoBarrel exist solely for people to write one really great article and manage it like it's your own webpage.  You can treat it like a blog if you want, but you don't have to.  What's great about this setup is that you can test the waters with your topics OR use this as an outlet to write about things that fall out of your expertise.  These sites also provide the building blocks for compiling your page, which makes it much, much easier to put together.  
If you're interesting in micro-blogging, check out the post below for more details.
Related post: How to Make Money Writing Articles on Hubpages
Write for Other Blogs
Writing for other blogs can be a great way to get your name out there and earn money from a one-time project. Tons of blogs accept submissions for guest posts and quite a few of them will pay you for your work.  If you are starting up your own blog (or already manage your own blog), then this is a great way to build up your following and pad your income.
Here are some well-known blogs that pay for their guest posts:
International Living

– $250-$400 + $50 for a photo for posts related to living and retiring abroad

Listverse

– $100 for list-style posts that are accepted for publication

A List Apart

– $50-$200 for posts related to the web industry (most of their topics are relatively advanced)
Related post: 16 Websites that Will Pay You to Write
Get a Job as a Copywriter
Getting an actual full-time job as a writer is really, really, really hard these days.  It's a competitive and unfortunately underpaid industry – except for copy writing.  Copywriting isn't journalism, blogging, or editorial writing.  It's basically writing for marketing and advertising purposes – and you can get paid a lot of money if you do it well.  Aside from the great career potential, copywriting is exciting because you don't have to be skilled in conventional writing skills.  Sure, you have to write well.  But a strong background in marketing and sales will often override a strong background in classical writing.  
Another great benefit to copywriting (that I especially love) is the ability to work flexibly. You can find freelance work as a copywriter and also have a much easier time working remotely or during odd hours.
Self Publish a Book
Everyone has something they could write about.  What is so amazing nowadays is that anyone can self-publish an ebook for almost no cost at all. This doesn't mean it will instantly become an Amazon best-seller. But if you have a great and very specific niche topic that you can write about, then you may be pleasantly surprised by how well it can do with some basic marketing.  Not to mention that having a published book (even if it's self-published) is a great career booster and an extremely fulfilling accomplishment.
I've heard great things about using Amazon's self-publishing services, so they may be a good place to start!  They obviously know what they're doing (and selling your book is in their best interest too!).
Here's the best part about making money by writing – once you get started, you will be shocked by all the opportunities that you come across!  The most important step is the first one.  So get writing!  Good luck. 🙂