When I had my first baby I quickly grew attached to parenting devices that I just couldn't live without (our water sling, the Ergo, and the Rock 'N Play to name a few). So when baby #2 was on her way, I had all of those items ready and waiting.
But of course, as you'd expect, I didn't end up needing them because she had her own ideas and her own needs.
So I started the discovery process all over again and for her, one of the greatest creations I came across was the diaper caddy.
It's basically a diaper bag that doesn't need to be unzipped, is more easily accessible, and can be anywhere in your home that you need it. It was an alternative to having a dedicated diaper changing table and ended up making travel a breeze.
I know it seems crazy – why not keep this stuff organized in her room? Or just in the diaper bag? Or in the medicine cabinet? Or maybe it's just time to get a changing table.
I'll tell you why – because she pooped 12 times a day. Because I was so tired of going up and down stairs. Because she was literally BORN with diaper rash. And because I was tired of having to ask my husband to go get this and that and this and that.
And over time, you know what happened? It became even MORE useful. What started as diapers, wipes, and Triple Paste, grew to include Motrin, the Nosefrida, and a couple extra bows.
I now use it at home, on long car rides, and anytime we're staying at someone else's house. It has been a lifesaver!
---
If you'd like more inspiration on parenting and raising happy kids, subscribe to my Parenting List for notification of new posts. Thanks for your time!
---
Some links on this page may contain affiliate links. For more information, see my disclosure policy.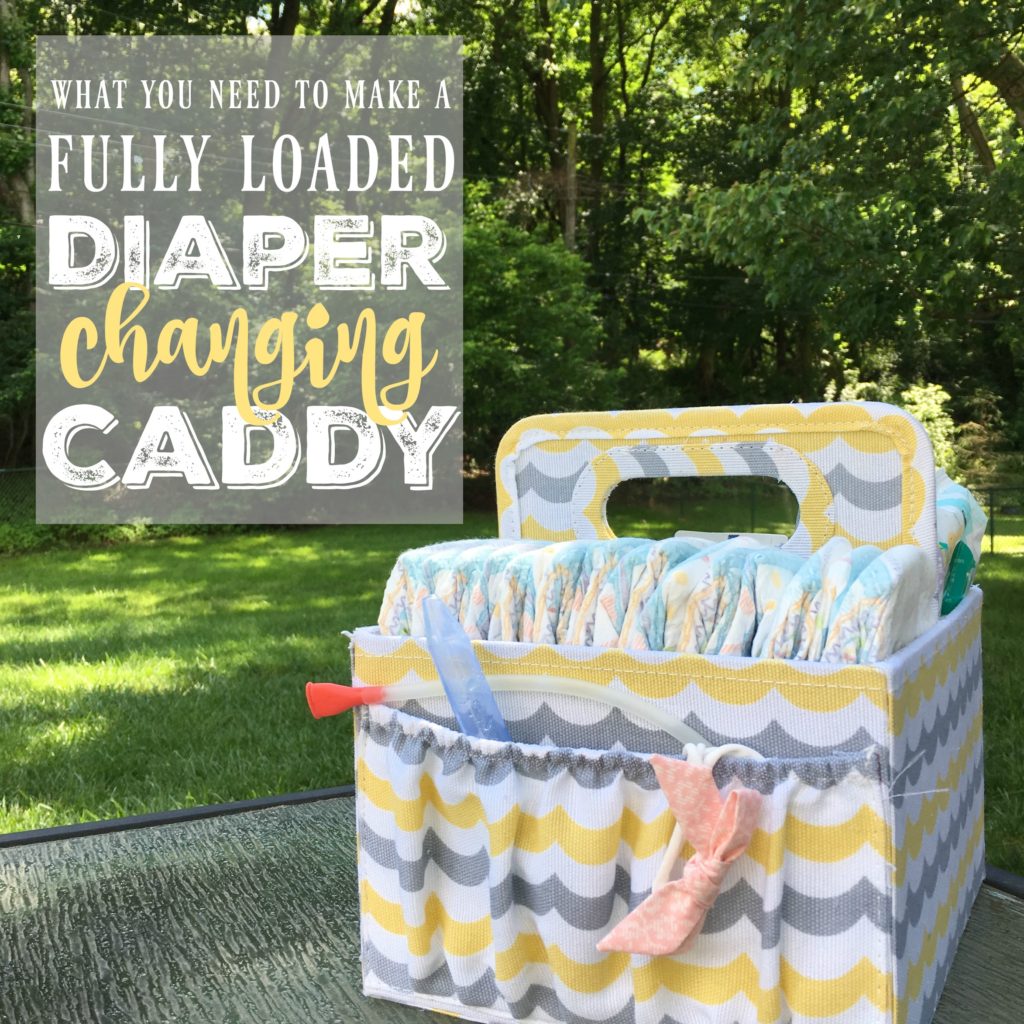 What You Need to Create a Diaper Caddy
"Creating" a diaper caddy couldn't be simpler because you're really not creating anything. You're pretty much just organizing everything you need in an easy to carry, easy to reach, easy to organize device.
I am in love with the caddy that I use (I actually now have 3 of them that I use for all kinds of things), but you really could use any caddy as long as it is easy to carry, sturdy, and open.
Mine has two large compartments and then two pockets on either end. The pockets have become so handy for me, so I would definitely recommend trying to find something just like that (I can slip my phone in it when I'm carrying it somewhere!).
The ones that I use are RGI brand that are unfortunately not made any more, but Trend Lab seems to be the big seller right now for the exact same kind of diaper caddy and they make a TON of different patterns, which are a lot of fun.
You can see all of Trend Lab's diaper caddy patterns here –> Trend Lab Diaper Caddies
Here are the obvious things you want it to hold:
And here are some things that you may not have thought, but will be glad you have at arms' reach:
Related post: Is the NoseFrida Really Worth It?
The Diaper Caddy as a Baby Shower Gift
A fully packed diaper caddy is the perfect idea for a baby shower gift for any mom.
Depending on how much you add to it, it really is an inexpensive option. Grab some clear cellophane and a pretty bow and you're done!
One of the things I love most about the diaper caddy (and why I own three of them) is that they can be used for a TON of things once you're passed the diaper phase.
My daughter has one that holds her socks, bows, and barrettes, and my son has one that holds all of his accessories (belts, sunglasses, bowties, etc).
If you want to spruce up your gift with some other great baby shower items, here are some more ideas:
Good luck with your diaper caddy creation! I'm sure you'll love it as much as I do.
Other posts from MBAsahm you may like:
---
If you'd like more inspiration on parenting and raising happy kids, subscribe to my Parenting List for notification of new posts. Thanks for your time!