I'm definitely not a minimalist (though I wish I was). In fact, I probably carry more traits of a hoarder than I do of a minimalist. Yet I STILL found that there were quite a few baby products that I just didn't need, wish I didn't have, or was so unbelievably grateful that I DIDN'T get.
I mean, these little babies come with a ton of stuff. And in my case, my son rarely left my arms, so what was the point of half of them? At one point his room had literally turned into a storage facility for the overabundance of his "things", while the stuff he actually needed just moved into my space.
Related post: The Baby Products You Actually Want on Your Baby Registry
So to save you the trouble (and money), here are the things you may not actually need to buy:
---
Some links on this page may contain affiliate links. For more information, see my disclosure policy.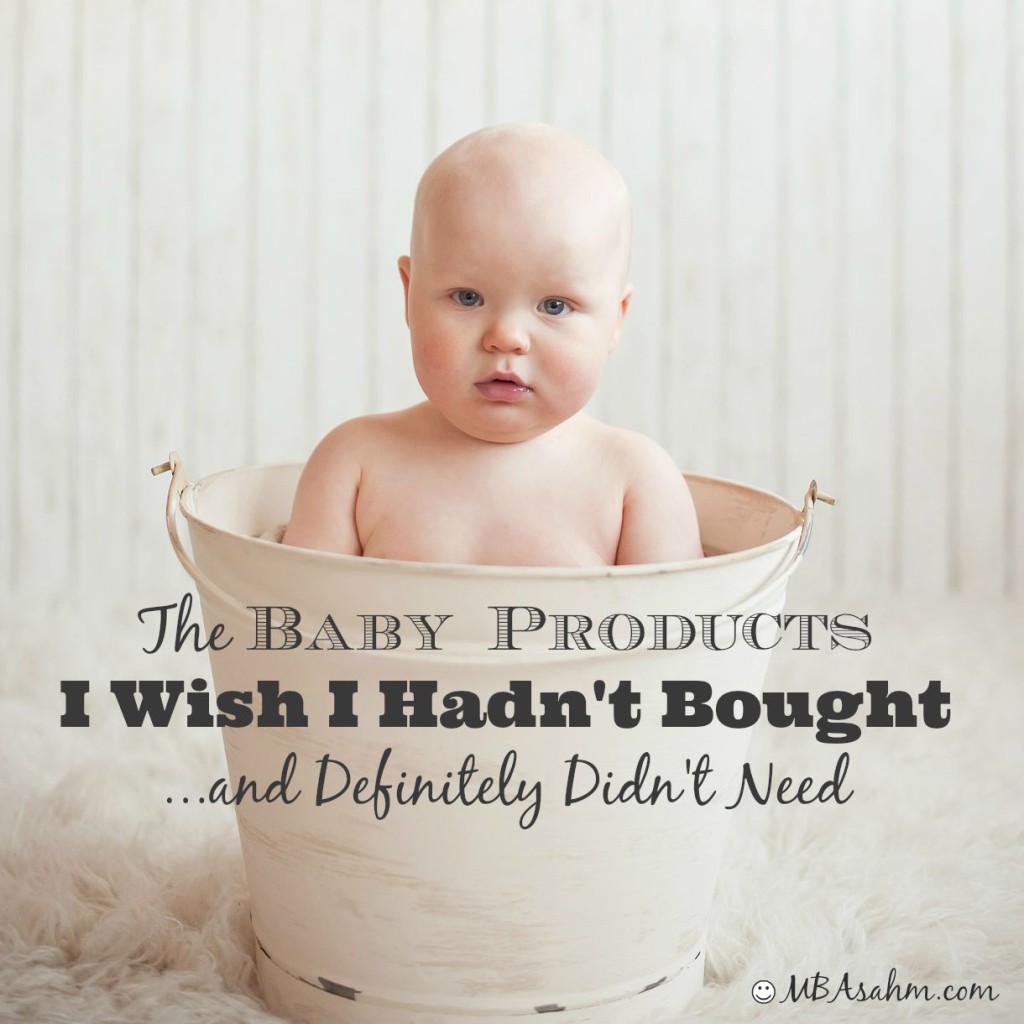 A Larger Than Life High Chair
The high chair we have is very highly rated. It has been side-impact tested, comes equipped with an airbag, flotation device under the seat, and emergency parachute.
It is a high chair "system."
Why no one told me I didn't need a system I will never understand.
Not only does this amazing piece of machinery take up ¼ of my dining room, but it's a pain in the butt to clean around, and absolutely 100% impossible to travel with.
What to Get Instead:
What I wish I had bought instead is this amazing foldable high chair that can be stored elsewhere when not being used and could technically fit in the car for weekend getaways.
My parents have it and I wish it was mine!
A Baby Bath Tub
I own the world's smallest bathroom. It's a wonder that it has even a normal bathtub, so the thought of adding a miniature, temporary one is just ludicrous!
But the even bigger reason I didn't need a special baby bathtub was that in the early months my son hated being in the bath. By the time he was happy being on his own, he was strong enough to sit up in the regular tub and the baby bath hadn't seen one single baby butt.
What to Get Instead:
Until I could get him sitting on his own, we ended up using a waterproof baby sling for showers. It was the absolute best baby product I owned.
Not only did my newborn fall in love with showers, but we were able to also use the sling for pools and other water-side activities.
Related post: Is the NoseFrida Really Worth It?
A Suitcase-Sized Diaper Bag
I was so, so, so excited to be getting a really nice, classic-looking, not-at-all diaper-bag-ish diaper bag at my baby shower.
The one thing I didn't think I would need was a standard diaper bag with little baby designs all over it that screamed I'M CARRYING A DIAPER BAG.
Well, I was right. I didn't need the cutesie diaper bag. I also didn't need the I'm-not-a-diaper-bag diaper bag.
Because you know what that was? It was a purse. A purse so large it should have had wheels.
What to Get Instead:
What I ended up doing was leaving it in the car as more of a "diaper station" and used one of the 25 old purses that I had as my diaper bag…which was basically what I wanted all along – a new purse.
A Nursery Crib
I know a lot of you think I'm crazy for this one and many of you will in fact need and use a crib.
But for those that plan to co-sleep, honestly save yourself the pain and frustration of "trying" to get your child to sleep in the crib and just pack it away.
What to Get Instead:
First of all, most (if not all) parents do not use their nursery crib for the first few months.  You will likely want your baby in your room so you will use a bassinet or newborn-fitted Pack 'N Play (which, for the record, I am glad I bought and DID use early on).
My baby never used his nursery crib and when we finally put it in the attic it was a huge relief. We were still able to pull out the Pack 'N Play for emergencies, but for the most part we were much happier all in the same bed safely co-sleeping.
A Changing Table
I received a tip from my mom early on that I really wouldn't need a changing table.  I would end up using the bed or floor or couch or whatever was around instead.  
Which is EXACTLY what ended up happening.  
What to Get Instead:
In the very early months I was lucky enough to have the newborn Pack 'N Play system that has a reversible changing table (which was useful), but once my son was too big for that I was really glad that I didn't have a whole piece of furniture just for changing his diaper.  
I got some really cute changing pads instead and just used them wherever I was in the house.
Related post: 8 Space-Saving Baby Products for Travelers and Small Home Dwellers
Baby Laundry Basket
My son has the most adorable little laundry basket with the cutest little animals on it and even after two years it is still in pristine condition…because it has never been used.
As I said before, the stuff he actually uses has ended up moving into my space anyways, so his clothes just end up in my laundry basket with mine.
I DO remember the first few months being terrified to have his tiny, super soft clothes mixed with my (and my husbands) rough, adult bacteria-ridden clothes, but after I got over that fear it made a whole lot more sense to just keep everything together. Plus, their stuff is soooo tiny that you will never have enough for a full load anyways.
The Diaper Genie
This is a great idea and I originally included this as one of my "essentials," but within weeks I had stopped using it and after a few months I finally just added it to the storage locker/baby's room.
Here's why: it's just a trash can. And you're probably going to park it right next to your real trash can. So it just ends up being a special trash can with special bags and a special disposal system for just diapers. You are far better off just using your normal trash can.
If you really want to invest your money, get a really nice one for your kitchen that will contain bad smells and then can eventually be used as a tool to distract your baby while you're cooking.
Let me know what YOU didn't need! And good luck if you're a new mom shopping right now 🙂
Related post: 6 Things You Need to Stop Paying For