Sometime between my first child and second child a new product was born: the NoseFrida.  Had I not come across a Facebook thread full of raving mothers I probably would have never even considered trying this medieval-looking device.  But I was a heavily pregnant woman and there's one thing I remembered vividly from my first – those snot sucking bulbs are worth their weight in gold.  I had forgotten it once on a trip and that was the last time it ever left my side.  When you're baby is stuffed up, it's the only thing that will fix it!
But this snot sucking device was different.  You suck the boogers out of their nose with your mouth. I'M SERIOUS.
Why?? Isn't there another way?  Is it really that important for the suction to be coming from our mouth? Would this really be any different from the age-old bulb aspirator?
Basically – is the NoseFrida really worth it?
---
If you'd like more tips on reaching financial freedom, living a fulfilled life, and raising happy kids, subscribe to MBAsahm for notification of new posts!
---
Some links on this page may contain affiliate links. For more information, see my disclosure policy.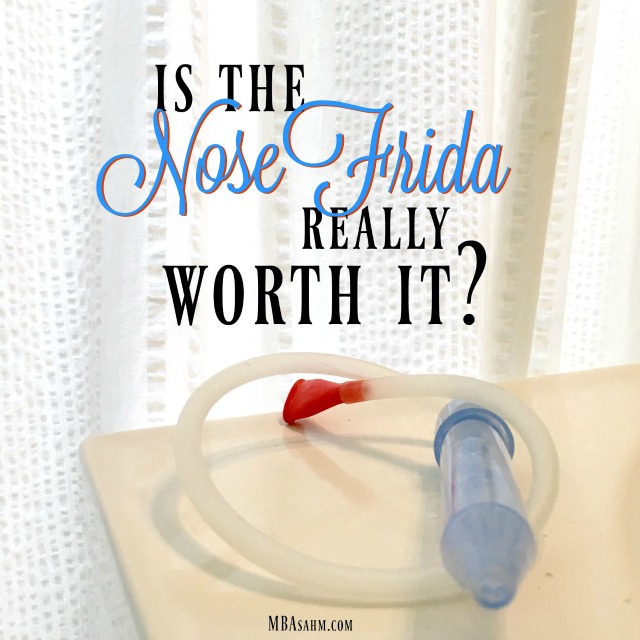 Is the NoseFrida Really Worth It?
I'm going to save you the time of scrolling and just tell you:  YES the NoseFrida is absolutely worth it.
1,000 times better than the old-fashioned nasal bulb aspirator.
1,000 times cleaner than the archaic nasal bulb aspirator.
Are you ready for this one?  My baby giggles when I use it on her.  She actually laughs.  No crying, no fussing, no tears. She enjoys it.
Oh yeah, and did I tell you the Swedes invented it?  I have no idea what that means, but they're happier than us and their kids are still allowed to play outside alone, so they must know something.
Are you really sucking the boogers out with your mouth?
The suction is definitely coming from  your mouth.  BUT there's a long, long tube between you and the snot and a nifty little filter that blocks any runaways.  
And since you're creating the suction yourself, you have complete control over how strong and how long the suction lasts.
Should I really buy a NoseFrida?
First, let me tell you I wasn't paid to write this post.  Second – YES!  Buy the NoseFrida.  
I have not the faintest idea how you would raise a baby without some sort of nasal aspirator and this one is definitely the best.
The concept is gross.  And to be honest, the concept remains gross even as you use it.  But you will love it.  Your baby will love it.  Your baby will sleep better, so you will sleep better.
I honestly wish I had two.
Other posts from MBAsahm you may like: