I bet I'm not the first to tell you that if you quit your morning Starbucks habit, you'll have over $1,000 in your pocket by the end of the year.  We all know this, so we've all done the same thing.  We've purchased a Keurig and we make our coffee at home…which means we're all trying to figure out where to find cheap K-cups.
Even with the cost of K-cups, it is worth keeping the Keurig.  The convenience, cleanliness, variety, and ease are unmatched.  And like I already said, it IS way cheaper than actually going out for coffee.
So, to keep the habit cost-effective, where exactly can you find cheap K-cups?  (And more importantly, where can you find Starbucks K-Cups that don't cost $1 a pop?)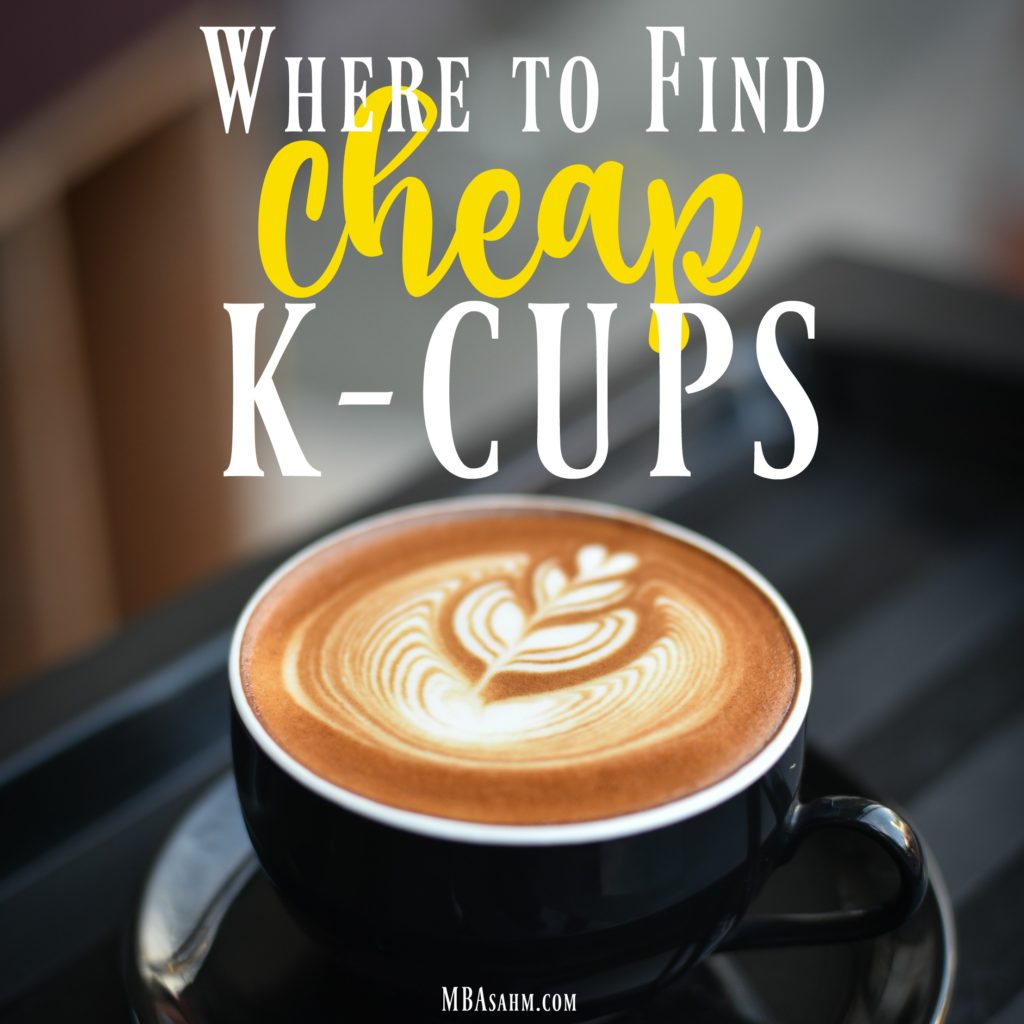 Amazon
It should come as no surprise that some of the cheapest K-cups around are found on Amazon.  But be warned – with some of these cheap K-cups, you get what you pay for.  I still always check Amazon first though because sometimes you can find an amazing deal on high quality brands.
The best part about buying K-cups on Amazon is that they include the price per K-cup in the description. If you can find good ones under $0.40 a K-cup, you've found yourself a great deal.  I will occasionally come across Green Mountain varieties for about $0.35 a K-cup.  That is a GREAT deal.  As a rule of thumb, you should never have to buy K-cups for more than $0.50 a piece.
The Best K-Cup Deal on Amazon
By far, the best deal on Amazon is for San Francisco Bay K-cups.  They taste great and are inexpensive because of their eco-friendly design (they basically cut out the plastic part of the K-cup but still can be used in Keurigs).  If you use Amazon's Subscribe & Save program, you can actually get these K-cups for $0.31 a cup!
Target
Believe it or not, Target comes in as one of the top places to get a great deal on great K-cups (of course, they're Target ;-))! (You can find Target's K-cup selection here → Target K-Cups)
The key is to wait until they offer their buy 2, get 1 free deal and then stock up.  When you do that, you end up getting the K-cups for $0.40 a cup!  That is a great savings considering it's with reliable brands that you know you'll love (when you find a deal like that on Amazon, it's often for a brand that you've never heard of before).  
If you're ordering online, make sure you have a Swagbucks account and you will get 2% cash back.  (If you've never used Swagbucks before, check out my post below and it will explain more about them. Swagbucks is 100% free and you can set them up in your browser to automatically alert you when you're eligible for cash back! If you shop at Target, you ALWAYS get 2% cash back with them.)
More on Swagbucks → How to Make Money Using Swagbucks
Keurig.com
Without a doubt, the largest selection of K-cups is found on Keurig.com.  If you wait for one of their 20% off promotions, you can also get them for a pretty good deal as low as $0.42 a cup (including 2% cash back from Swagbucks).  Luckily, their 20% promotions are frequent (think Bed, Bath & Beyond 20% off frequency), so you should really never have to make a purchase at the full price.
An Even Cheaper K-Cup Option – The My K-Cup
If you're really ready to take a frugal leap and don't want to let go of your Keurig, then the absolute cheapest option is to invest in a My K-Cup (reuseable Keurig coffee filters).  These filters allow you to use whatever coffee grounds you want and fill your own K-cups!  Keurig has finally developed one for the Keurig 2.0, so this is once again an option for us Keurig addicts.
The upside of the My K-Cup is two-fold.  One, it's cheap.  Two, it allows you to control the strength of your favorite coffee.
The downside is that you give up a bit of the Keurig convenience and variety factor.  You have to clean the filter as opposed to throwing it away and you lose some of the cocoa, tea, and specialty coffee varieties.
You can purchase My K-Cups from Keurig.com here → Keurig.com My K-Cup
or on Amazon here → Amazon.com My K-Cup
Grocery Stores
At full price, brand name K-cups at most grocery stores are WAY too expensive.  However, grocery stores offer a unique ability to come across amazing deals AND the ability to double and even triple promotions, coupons, and rebates.  Here's what you need to be doing if you want to find really cheap K-cups at your local grocery store:
Use Cash Back Apps.

 If you don't already use cash back sites while grocery shopping, then you need to stop what you're doing right now and sign up for them.  They are all free and they PAY YOU for certain products that you purchase. This includes occasional deals on various K-cups.  I've seen them for Dunkin Donuts K-Cups, McCafe K-Cups, Green Mountain K-Cups, and sometimes generic K-cups. (The highest paying cashback app by far is

ibotta

.  It's free to sign up and if you use the referral code

reovbju

you get an additional $10 with your first rebate.)

Watch for Buy One, Get One Free Deals.

 Since grocery stores need to hold a certain amount of inventory, they also need to move it.  This means that really great deals will turn up simply to keep sales moving. If you want to get cheap K-cups at the grocery store, then you should check the coffee section everytime you're there just to see if a good deal is going on.  If it is, stock up!

Use Coupons.

 If you have a specific brand you like, get on their mailing list for coupons.  In addition to cash back on online sales,

Swagbucks

lists grocery coupons and I often find good K-cup deals here.  When you get a coupon, hang onto it until your grocery store runs a deal and you will save even more.  

Consider the grocery store brand.  Depending on your grocery store, their generic brand K-cups may or may not be a consistent good deal (they also may or may not be high-quality, so try them out before stocking up!).

 If you live in the Northeast, Wegman's brand K-cups are decent quality and cost an unbelievable $0.33 a cup!

 That's a great deal if you're a Wegman's shopper.
Related post: 10 Free Apps that Will Save You Money & Your Sanity
Where to Find Cheap Starbucks K-Cups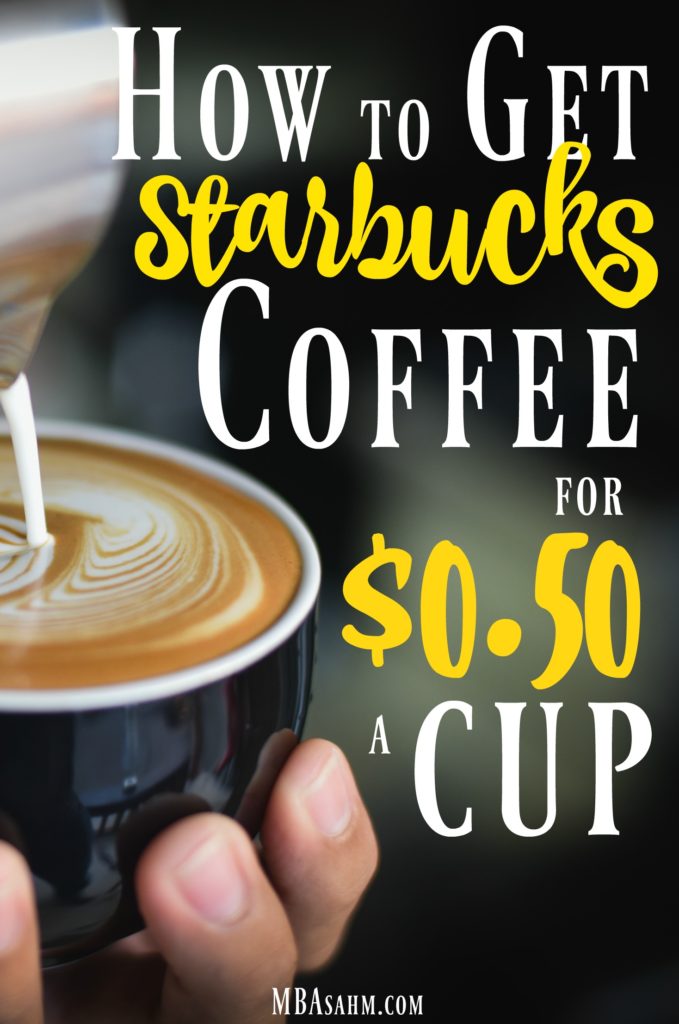 So what happens when you've got a taste for the expensive stuff?  Starbucks isn't the only premium brand out there, but they definitely make great coffee and their K-cups can get expensive. You will often see Starbucks K-cups for around $1 a cup!
$1 a cup is just too much.  
So where can you get cheap Starbucks K-cups?
I will save you the time and frustration of digging around to find the cheapest Starbucks option and I'll just tell you: it's with Keurig.com.  
Almost every other site (including Starbucks themselves!) excludes Starbucks brand K-cups from their discount offers. Keurig.com does not do this, which means if you wait for their 20% off deals, you can get Starbucks K-cups at $0.57 a cup (that is including the 2% Swagbucks cash back).  If you can score a 30% off deal at Keurig.com, then you can get your beloved Starbucks K-cups for $0.50 a piece!  (For comparison, at Starbucks.com they are $0.72 a cup and at Amazon they are $0.63 a cup.)
Other posts from MBAsahm you may like:
Where to Find LUSH-Quality Bath Bombs for ¼ the Price
How I Cut $500 Off My Monthly Grocery Bill
6 Things You Need to Stop Paying For
10 Things You Should Be Doing to Pay Off Your Mortgage Early
Some links on this page may contain affiliate links.  This means that if you purchase one of those items, I will receive a commission at no extra cost to you. All opinions are my own and I will never recommend a product that I wouldn't (or haven't) purchased myself. Thank you for supporting MBA sahm!