Whether you're visiting Philadelphia for a weekend or live here year round, there's a ton to do and see, especially with your toddler and preschooler.  But if you're looking for something to fill your whole day with, then these Philadelphia day trips will do the trick.
Have fun!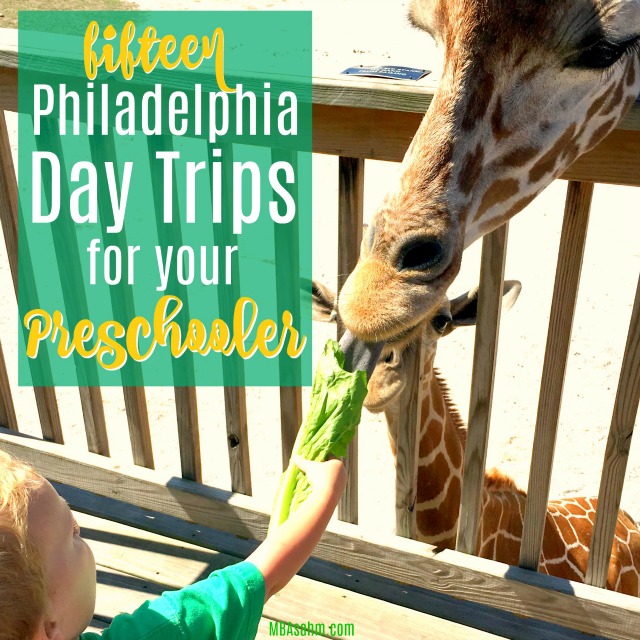 The Please Touch Museum
If you're new to Philadelphia, this needs to be your first stop with your toddler or preschooler (and if you're a Philly native, then time to head back there!).  The Please Touch Museum is filled with activities for toddlers and preschoolers.  There's a preschool-sized grocery store, buses and cars to play on, a carousel, water tables, a maze, and a series of displays and rooms that change seasonally.  This is possibly the best place in Philly to take your preschooler to!
Related post: The Please Touch Museum: Philadelphia's #1 Destination for Toddlers
The Crayola Experience
I didn't have high expectations the first time we went to The Crayola Experience, so I was completely blown away by how amazing it was!  There are 3 floors of interactive activities all based around arts and crafts, but we're not talking about sitting around a table coloring. The floors, walls, and ceilings become interactive. There are wax machines to make your own crayons. Computers to design your own characters.  And of course, a 2-story playground right in the middle.  This is a great destination for rainy or winter day (everything is indoors).
Related post: Your Next Philadelphia Day Trip: The Crayola Experience
Elmwood Park Zoo
You would never imagine that tucked away in Norristown is one of the best zoos in the area.  It's not nearly as large as the Philadelphia Zoo, but it has some really fun attractions.  One of which is a chance to actually feed the giraffes!  The lines are small, there's a playground in the center, and you don't have to battle city traffic to get here.  This one is a must-see for any toddler or preschooler!
The Strasburg Railroad
We've got a serious train lover in our house, so the Strasburg Railroad is the equivalent of heading straight to the North Pole and shaking hands with Santa Claus himself.  
First, you get to actually ride the railroad which is pretty fun.  But then you've got a huge train museum that lets you play with little trains AND climb on life-sized actual trains.
If you play your cards right (or just mark the right dates on your calendar ;-)), you can visit while Thomas the Train is in town and actually get to ride on him (that's like heading straight to the North Pole, shaking hands with Santa Claus himself, and then riding with him in his sleigh).
Hershey Park
If you're looking for a Philadelphia day trip of pure bliss for your preschooler, then Hershey Park should go to the top of your list. It is a huge theme park dedicated to the love of chocolate – seriously.  They have everything a good theme park has, but with the addition of Hershey's Chocolate World, where you get to see how chocolate is made, along with other chocolate-themed activities and attractions.
Dutch Wonderland
Dutch Wonderland offers a similar theme park experience, only without the chocolate and much closer to Philadelphia.  It's got tons of rides suitable for toddlers and preschoolers so you can easily pack your day with tons of fun!
Cape May Zoo
Of all the zoos worthy of a Philadelphia day trip, the Cape May zoo is by far my favorite.   First off, it's FREE.  That's a huge benefit, especially since this zoo is so amazing.  It is tucked into the woods, so there is tons of shade everywhere, and it never seems to be too crowded, so you always have a great view of the animals.  There's also a playground and park attached, as well as a carousel and train that are perfect for preschoolers and toddlers.  And if you've got any older children (or maybe just for you??), they've just added an amazing ropes course that goes through the trees!
Related post: 9 Reasons to Take Your Toddler to the Jersey Shore's Cape May Zoo
The Upper Schuylkill Valley Park Wildlife Center
The Upper Schuylkill Valley Park Wildlife Center is one of my favorite destinations on a beautiful day…and it's another free Philadelphia day trip destination!  The Wildlife Center has both indoor and outdoor parts, so you can escape the heat if you need to. There are amphibians, reptiles, raptors, wolves, and farm animals.  Part of the year they also have a cute butterfly garden.  The best part, though, is that the park is right along the Schuylkill River, so you can bring a blanket and settle yourself in the park overlooking the water.  There's a small dock if you've got a canoe or kayak.or just to dip your feet in!
Adventure Aquarium
Adventure Aquarium does an amazing job of entertaining preschoolers and toddlers.  They have everything you'd expect from an aquarium (tanks full of fish ;-)), but then go way further by providing playgrounds, interactive exhibits, and sections where you can actually touch some sea creatures.  They also have a massive tank where you can see some really large species that normally can't be housed in aquariums.
Related post: A Guide to Camden, NJ's Adventure Aquarium with Your Toddler
Sesame Place
This is another great theme park within a one hour drive of Philadelphia!  Sesame Place, as you'd expect, is Sesame Street themed, so it is truly the perfect theme park for preschoolers and toddlers.  Not only can you find the Sesame Street gang there, but if you plan your visit right, you can also see other PBS characters like Curious George or the Dinosaur Train gang.
Diggerland
I still can't believe something like this exists, but Diggerland is a construction-themed park! Your kids actually get to ride and drive massive construction vehicles.  Before you head out there though, be aware that the majority of the rides require participants to be at least 36 inches, so this may be better for preschoolers than toddlers.  They do, however, have a handful of rides and activities for toddlers, so no one will be left out!
Storybook Land
Just 10 miles west of Atlantic City, Storybook Land is another theme park perfect for toddlers and preschoolers.  As you'd expect, it has a fairytale theme with tons of rides and attractions to keep them busy.  During the hot summer months, there is also a small water play area perfect for cooling down!
The Philadelphia Zoo
As far as city zoos goes, the Philadelphia Zoo is one of the better ones.  It was also the U.S.'s first zoo, which is pretty amazing if you think about it.  It's big, clean, and does a great job providing entertainment for toddlers and preschoolers (beyond the expected animals).  One of the coolest additions is ZOO360 – a network of "trails" that go above the zoo's walkways, connecting different habitats and allowing animals to scurry above your head.  
The Franklin Institute
The Franklin Institute is the perfect destination for snowy, wet, or hot days, especially if you want a trip with an educational component.  If your preschooler or toddler shows any interest in science, they will love the interactive aspects of this museum.  And if they don't, this may be the way to get them hooked on it!
The Jersey Shore
If you're a Philadelphia native, then you're most likely already familiar with the Jersey Shore and probably already have your favorite go-to towns and beaches.  And if not, then this MUST be one of your next stops. The beach alone can fill your day, but depending on what town you head to, you will also have the option of water parks, theme parks, zoos, and shopping.
I hope this list was helpful!  Let me know of any other Philadelphia day trips that you've loved with your preschooler or toddler so I can add them to the list!
---
If you'd like more tips, tricks, and inspiration on parenting and raising happy kids, subscribe to my Parenting Mailing List for notification when new posts are published. Or, if you want to receive notification for all new posts from MBAsahm, join my Main Mailing List and receive tips on achieving financial freedom and living a fulfilled life in addition to parenting and raising happy kids. I hope you enjoy everything you read! Thanks for your time!
---