A couple of weeks ago my husband and I took our 1 ½ year old son to the Adventure Aquarium (aka Camden Aquarium to the locals) to meet some friends who also had a toddler on their hands (2 years old). We weren't quite sure what to expect with him, but were pleasantly surprised by how engaging the aquarium was for such little guys! They've definitely worked hard to reach different age groups and it was refreshing to find something fun for my little guy (even the local playground is too tough for him).
Bottom line, we'll definitely be back again and I would certainly recommend the trip to anyone in need of entertainment for a young toddler.
Related post: 15 Philadelphia Day Trips for Your Toddler & Preschooler
Here's everything you need to know: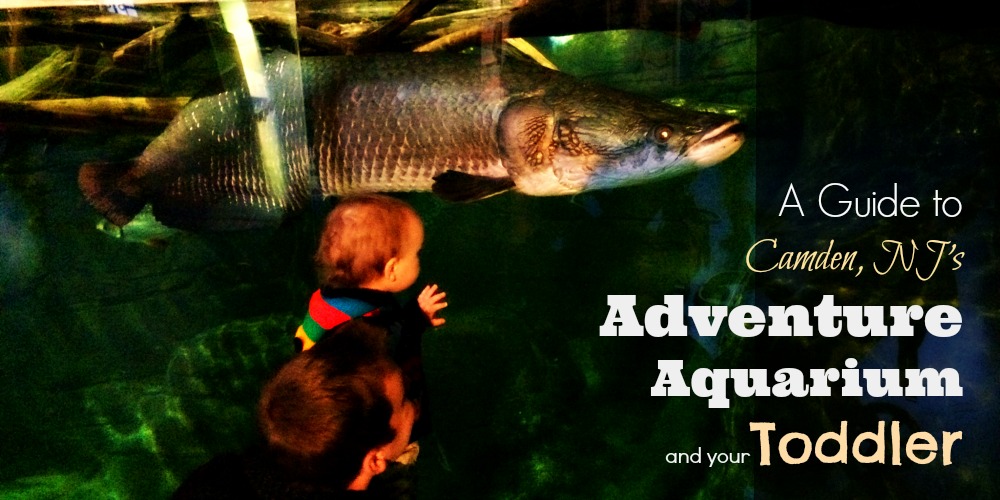 The Logistics
The Adventure Aquarium was definitely a worthwhile and easy trip. Here's some of the logistics:
It is open 365 days a year.  So it is a perfect trip for holidays, rainy days, and even better over the miserable winter that we get around this area.
It is almost entirely indoors. Outdoor activities are pretty plentiful, but the indoor ones can be harder to come by.  You can escape the snow, rain, and heat and still enjoy yourself.
It is a great size.  It's not too big and not too small.  We were there for about 2 hours and that's about perfect for a young toddler.
It has great day trip potential for PA, NJ, NY, and DE.  If you live in this area, then you already know how awesome it is to be close to so many things. And if you're visiting, then you're in for a treat!
The Highlights
Here are the things you definitely want to see or do with your toddler: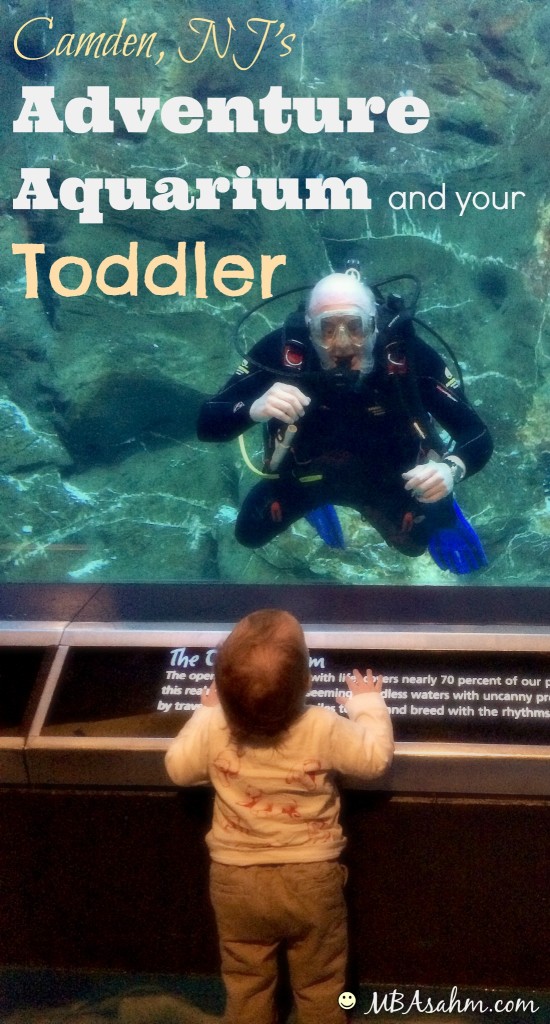 The Ocean Realm – This is the aquarium's largest tank, so you can't miss it.  They do shows throughout the day so there is seating if you want it, but it's really great for your toddler when they're not doing a show because they can get right up against the glass.  A dive team is almost always in the tank which can be almost more exciting than the fish.
The Shark Realm – This exhibit is really cool, relatively quick to go through, and has a ton of crazy things for your toddler to point at.  It's basically a giant tunnel that you walk through with sharks swimming all around you (including above you).  Since the sharks are always moving you don't need to worry about whether you're in the right location or if you're going to miss them – they're everywhere!
Kid Zone – Kid Zone is basically just a playground in the middle of the aquarium…which is GREAT.  It's the perfect opportunity for your toddler to get out of the stroller and blow off some steam.  The toys are simple and definitely toddler-friendly.  In fact, they're really meant for toddlers.
Tips for Your Visit
Ok, here's the important stuff!  Learn from my mistakes and/or the things that went well.  It will make it much more enjoyable for you. 🙂
Take a stroller. We did this and thank goodness!  The entire aquarium is stroller accessible so you will have no problem at all.  When it's crowded you will be so grateful to have your toddler buckled in and moving fast (or slow).  You'll also be doing a fair amount of walking so the last thing you need is to find yourself carrying them all day.
Go to the Shark Realm first. We did not do this and it was pretty packed when we got there.  We still were able to see a ton, but we had to move along pretty quickly.  The earlier you get there, the more leeway you'll have to wander and take your time (assuming your little one lets you!).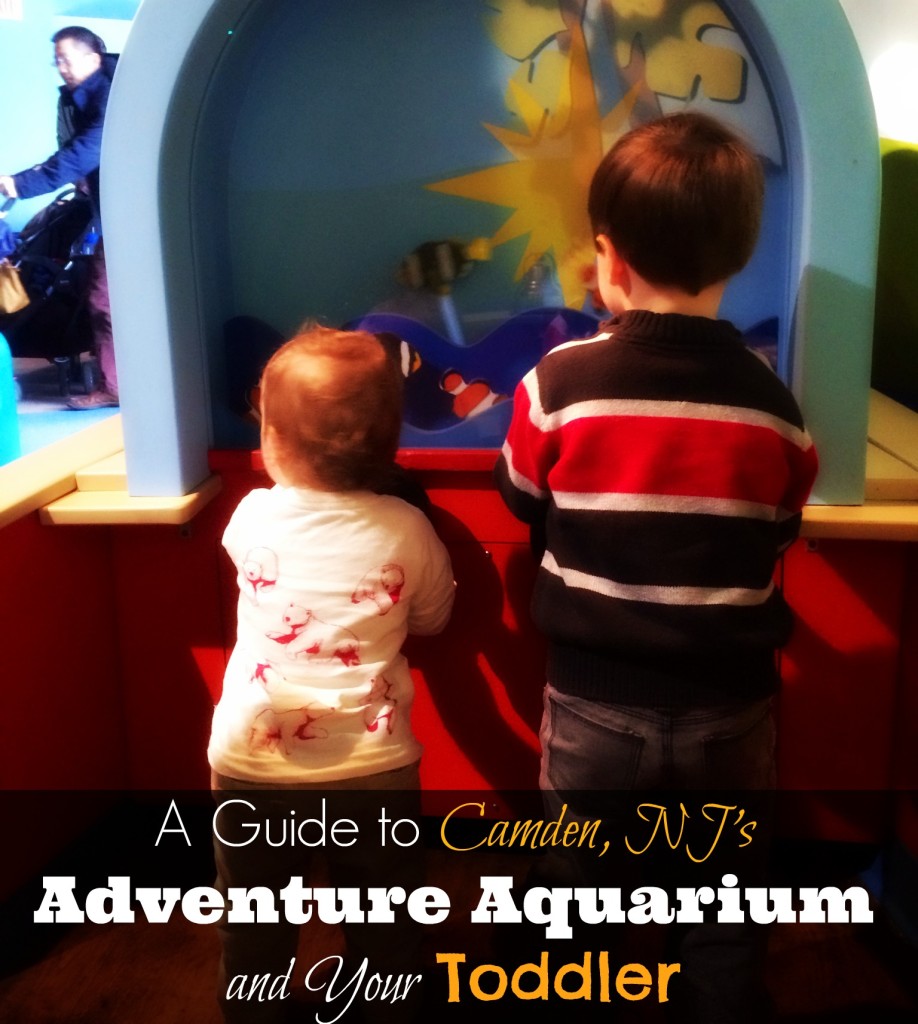 Stop at the playground. I already said this above, but wanted to drop it in again!  It's perfect to give them a little break and everything is toddler-safe.
Check out any big fish.  There are tons of tanks as you move through each exhibit and not surprisingly the ones with the biggest fish are the ones your toddler is most likely to enjoy.
Bypass any small fish. If you know your toddler will enjoy the little fish, then don't take my advice.  But otherwise, I recommend not wasting your time trying to point out tiny little minnows.  My son is pretty observant and he still was just not interested in them. With the abundance of larger fish, it just wasn't as exciting for him.
Definitely bypass anything not moving. For adults it might be fun to try and find the camouflaged frog that looks like a rock, but your toddler is obviously not going to get it.  Don't waste your time frustrating both of yourselves by trying to teach them the difference between a frog and rock…when you can barely tell yourself!
Biggest tip – have fun!!  Nothing beats seeing your toddler excited, so I'm sure you'll enjoy your visit.
Looking for some other Philadelphia ideas for your toddler?  Check out our trips to these places:
Check out my Pinterest board for other tips on traveling with your kids!
Follow Nikki @ MBAsahm's board Traveling with the Kiddos on Pinterest.