There's no way around it – having a spouse that travels a lot sucks. Big time. It can be lonely, tiring, and frustrating.
But you'll quickly realize that you can either fight it or embrace it, and fighting it is often useless.
My husband travels almost every week for work. It's not the ideal scenario for me, but he loves his job and it gives me the opportunity to stay home with my son instead of working – so I'm definitely not going to fight it.  That leaves…embracing it.
So here are the tricks I've come up with along the way that make the situation happier, easier, and more enjoyable.  And for those that are new to have a traveling spouse…I promise you, it does get easier (I know you think it won't!).
Happy Music All the Time
When I say all the time, I literally mean ALL the time.  And it HAS to be happy.  Whatever you do, under no circumstances should you be listening to Sarah McLaughlin or Enya.  Music has such a huge effect on our moods that you have to take advantage of it.
Treat Yourself to Flowers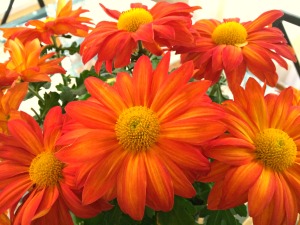 This is another one that has been scientifically proven to make you happier. And why not treat yourself?
Pick out something bright and beautiful and put it somewhere that you pass by often. You also don't need to break the bank and splurge on dozens of out-of-season roses.  Head to your local farmer's market and buy in-season flowers or even potted flowers that will last way longer.
I got a beautiful pot of flowers last week from the farmer's market for $3 and as long as I water it, it should last me months.
Leave the Lights On
I know this sounds very environmentally irresponsible but it can make a huge difference, especially if nights become a little creepy (which they do).
Leaving lights on outside the house is a huge safety precaution, so it should give you some peace of mind. Inside the house, I always leave the lights on that lead to the bathroom and one downstairs. It makes the house feel a little warmer and is a big comfort.
Keep the House Super Clean
I know this seems counter intuitive. You're probably thinking that one silver lining of your spouse leaving us that you don't need to keep the house clean. Unfortunately this factor has just too big of an effect on your mental state. Regardless of what you think or tell yourself, a clean house will make you feel better and a messy house will stress you out.
You can, however, sing to your hearts delight and wear your Christmas flannels while you're cleaning.
Super Clean on Sundays
After many iterations of weekly travel, my husband and I finally discovered that my weeks were significantly easier if I was able to start the week off with a super clean house (I know…duh). It may seem obvious, but it's hard to prioritize cleaning when the weekend is your only family time. But if you get it all done Sunday night, you won't have to stress as much if your time all of a sudden needs to shift to something more urgent.
Rediscover Your Pets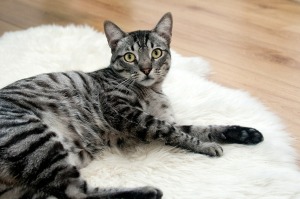 Remember Fido?  Your furry friend that you used to spend time with before you had kids?  Well time to rekindle the relationship.  Again, here is another scientifically proven way to boost your mood and release some endorphins. Petting your dog or cat will not only lower your blood pressure, but it's a great distraction to get your mind off things.
Go Outside as Much as Possible
Even if you just go for a 10 minute walk, it will make a huge difference.  And if you've got kids, then it's a great way to get them to blow off some steam anyways.
My son isn't always up for really long walks, so I try to take at least 3 short walks a day.  Even when I don't want to, I make myself go out and I'm always amazed by how good it feels.  It's like working out…sometimes the hardest part is just making yourself do it.
Plan EASY (and Healthy) Meals
Again, it's easy to fall into the trap of thinking that you're off the hook from your normal routine.  But it's more important than ever to be organized so that life is easier for you.
Planning meals is always a good idea, but it's especially important to make sure they're easy.  So often, by the time I get a chance to eat dinner I'm exhausted…and so is my son.  Which means I have to prepare, eat, and clean up with one hand…while bouncing…and singing.
Take advantage of leftovers, cereal, frozen meals, and fruit.  Remember – if you can't make it with one hand while bouncing and distracted, it's too complicated.
Avoid Sad TV and Books
I know this seems obvious, but you'll be surprised how badly you just want to curl up and read a good book or turn on a marathon of Law and Order SVU.  Normally it may not affect you, but with your partner gone, all of a sudden your thoughts can get the better of you.  And it's bound to be the day that the SVU episode profiles a mother alone in her home who is attacked or children kidnapped.  Just don't do it.
Instead, find a marathon of Modern Family, Seinfeld, or Friends. Read a good nonfiction book or something funny.  (Here's a list of my favorite shows to watch when I'm home alone – The Best TV Shows on Netflix and Amazon Prime to Watch When You're Home Alone)
Even harder to avoid or filter will be the news. If you're used to watching the news every morning or night, this will be hard, but be really careful which programs you choose.  The local news around these parts is depressing beyond belief. Even CNN can get depressing when it's focusing primarily on war.
In the mornings, the Today Show or Good Morning America are much safer.  I sometimes even turn to CNBC for stock market talk…they'll catch you up on the important news highlights anyways.
Plan at Least 1 Outing a Day
This one is especially hard during the winter months because it can be a hassle to load up my toddler just to go somewhere and return before the next nap.  But it is so important to get out of your house, encounter other humans (especially the adult kind!), and find some needed distractions.
Do Stuff at Night
Night, without a doubt, is the worst.  For some reason, once that sun starts to set the anxiety and loneliness will start to creep in.  The best thing you can do is keep yourself busy so you don't have time to let your mind wander.
Try to plan something fun. Visit with friends or plan a special activity with your kids. The more tired out you can get them (and yourself), the better! The hardest nights for me are when I can't get my toddler to sleep, so anything I can do to make that transition easy is worth it.
Ok, so let's recap the tricks to staying happy: Music, flowers, pets, and fresh air are a must!  Horror flicks and crime dramas are a no. KEEP BUSY. Go easy on yourself and try to have fun!  I promise, it gets better.
Oh, and also…chocolate makes you happier and is packed with antioxidants. Science backs this. Just saying!
UPDATE:  This winter's been rough, so I've come up with ANOTHER 10 ways to stay happy while your spouse is traveling.  You can check it out here!
(Visited 1,179 times, 1 visits today)